Kalamein doors and windows were originally designed to be fire-resistant. While they do not meet modern fire standards and are no longer made for this purpose, metal-clad wooden doors provide several other advantages. These include:
Energy efficiency:

Metal cladding - steel in particular - is a great way to maximize the amount of energy retained within a building. A metal-clad wooden door is a far better insulator than a plain, wooden one. 

Security:

Metal cladding adds strength to windows and doors, making them that much more difficult to breach. This quality increases the security of your entrances considerably.

Durability:

Wood can last for many years, particularly if it is high-quality timber and well-maintained. The addition of steel or other metals will make your doors even sturdier and more long-lived.

Low maintenance:

Metal-clad doors may need an occasional polish depending on your preferred finish, but other than that, they are extremely easy to care for.

Distinct, historic appearance:

Metal-clad doors, particularly those that feature bronze or copper, hark back to the period between the world wars, making them perfect additions to restored historic buildings or new ones on which you intend to recreate that style.

Customizable for industrial, commercial or residential environments:

Since the only common factors across kalamein doors and windows is wood wrapped in metal, the method of cladding doors in metal can be applied across a variety of settings, from sturdy factory doors to opulent bronze-clad main entrance doors at the front of an upmarket apartment building.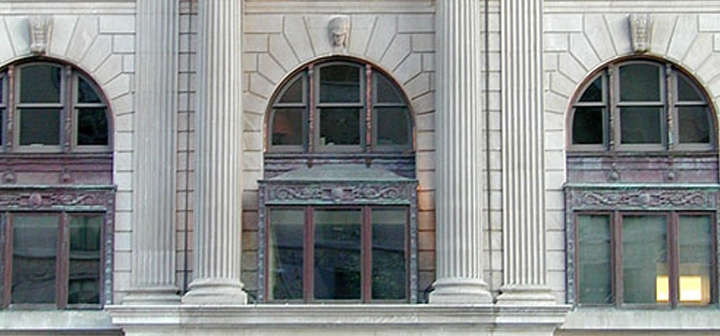 Variety of high-quality metal types
Several different types of metal can be used to clad kalamein doors. Each one of them has a particular set of benefits.
Stainless steel:

Chosen for its strength and resistance to corrosion, stainless steel also supports good hygiene, looks beautiful, is recyclable and lasts for years.
Zinc

is a cheaper option than stainless steel. It is low maintenance and also lasts for a very long time. It resists mechanical damage exceptionally well. Like steel, it resists corrosion very well but is more limited in terms of its physical appearance. While steel can offer a matte or polished appearance, zinc is best suited for settings where a matte, industrial look is preferred.
Copper

has an unmistakable reddish-brown colour and has an important place in construction and metalwork. It resists corrosion, is durable, has minimal thermal movement and is lightweight. 
Bronze:

As a non-ferrous metal, bronze resists corrosion even better than steel does. It is just as durable and resists metal fatigue far better than steel. It has a lower melting point than steel and iron and facilitates easy care and maintenance. 
Professional craftsmanship
Whatever materials are chosen to clad your kalamein door, it is the craftsmanship of the metal fabricators that makes all the difference. Heather and Little have been crafting kalamein doors and all kinds of other metalwork for high-profile construction projects around North America for more than 90 years. Contact us to see how our skill and experience can create doors and windows that will set your construction or restoration project apart.