For nearly a century, customers across Canada and all of North America have turned to Heather & Little for roofing, architectural restoration, and custom metal fabrication. We are your experts in restoring classic buildings and ornamental pieces, while also offering a range of other classic architectural services.
One of the most important processes for creating metal roofing in Canada is sheet metal fabrication. Using basic materials combined with advanced manufacturing processes, we can create virtually any metal roof imaginable - from historical recreations to modern business roofing.
In this article, we wanted to highlight our sheet metal fabrication shop processes and how they create a superior product for our clients.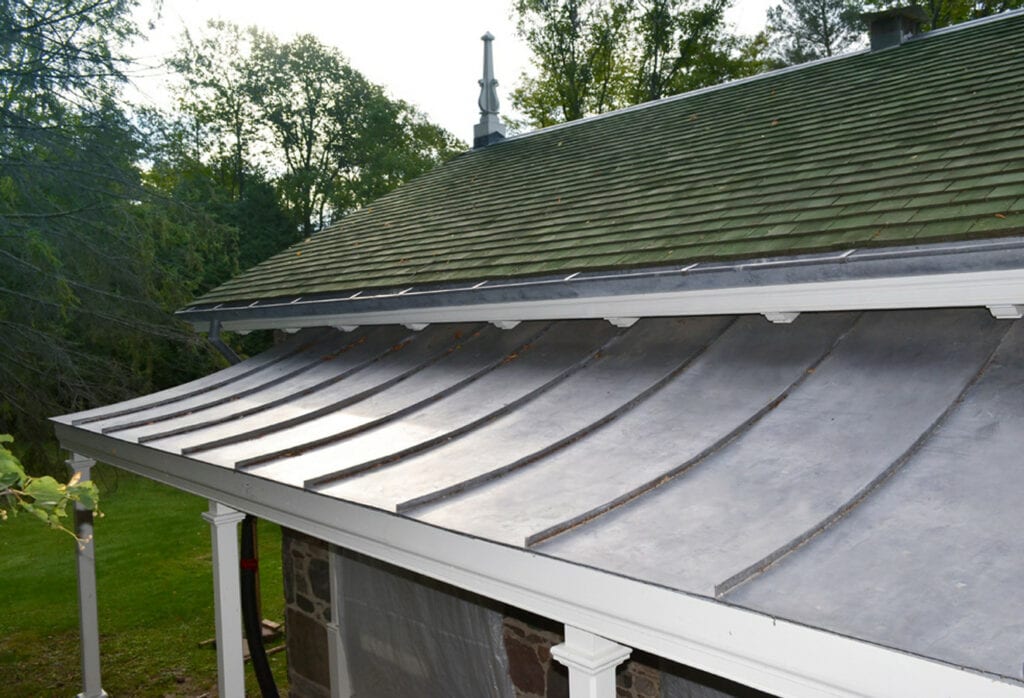 The Basics of Sheet Metal Fabrication at Our Shop
Sheet metal fabrication begins with a single flat metal sheet, which is then bent, cut, punched, and otherwise transformed into the roofing piece desired. Virtually any commonplace metal can be put through a sheet metal fabrication process, including aluminum, copper, brass, stainless steel, or zinc, allowing for a high level of flexibility and versatility in manufacturing.
While the process of stamping sheet metal is ancient, modern technology makes it far more effective. Today, our shop uses detailed CAD/CAM computer designs to pre-plan each tool and die set for the stamping, allowing for exceptional precision - a critical factor when recreating or restoring historic architectural elements.
The Major Sheet Metal Fabrication Techniques
Broadly speaking, there are three basic techniques for shaping metal roofing materials in Canada. They are forming, cutting, and joining.
1 - Forming
Forming describes any process which reshapes the metal without cutting, sheering, or other alterations to its physical dimensions. Some of the most common forming methods include:
Bending. Bending, as one would imagine, is the most basic type of forming - bending the metal into the desired shape. This is typically done using a combination of a rolling machine and press brakes and can be performed on many softer metals.
Rolling. Rolling is utilized to reduce the thickness of a piece of metal, by passing it through rollers that cause it to become progressively thinner until the desired thickness is reached. This can be done at either room temperature, or under heat, depending on the properties of the metal.
Stamping. During fabrication stamping involves the use of presses and dies to push through the sheet metal. This may be utilized to fully cut through the metal or to create indentations. The process is typically done cold, and therefore does require the metal to be non-brittle to stand up to the stamping.
Hemming. Much as with hemming clothes, hemming a piece of sheet metal involves folding the edge over on itself to create a thicker edge. This can strengthen the final piece, improve its appearance, or create attachment points. The edges may also be curled when more prominent hems are needed.
2 - Cutting
Cutting metal is a major aspect of sheet metal fabrication, and there are several ways it can be done at our shop.
Sawing. Traditional metal saws are still sometimes used for cutting, although they are messy, create burrs, and are limited in their cutting strength.
Laser cutting. Lasers are probably the most common tool for metal cutting today, capable of highly precise cuts in a wide range of materials. However, due to the heat generated, they are not appropriate for metals with a low melting point.
Plasma cutting. Plasma torches are more powerful than lasers and capable of cutting stronger or thicker materials. However, it will create significant burrs in the metal which will have to be reworked afterward. Also, plasma cutters can only be used on electrically conductive metals.
Water jet cutting. At high enough pressures and speeds, a water jet can cut through nearly any material, even the strongest of metals. This is especially useful in situations where the material would be vulnerable to heat. It's also energy-efficient, and the water used is endlessly recyclable, making it a 'green' process as well.
Shearing. Shearing describes any process where pure shearing force is used to cut metal, rather than precision materials, such as forcing the metal through a die stamper. Use of punchers to create holes in the metal, such as leaving room for rivets in historical metal roofs, would be another form of shearing.
3 - Joining
Joining is the process of attaching two or more sheet metal pieces together. These include:
Welding. Welding is still the standard process for joining metal together and is the foundational process. That said, in our work, welds are often inappropriate for historical pieces.
Riveting. For older historical metal roofs in Canada, riveting is usually the more accurate joining method. This involves punching matching holes through the pieces to be joined together, then pushing through a rivet which is finally flattened to hold it in place. This process is typically cold, although the strongest rivets may utilize melted steel for extra holding strength.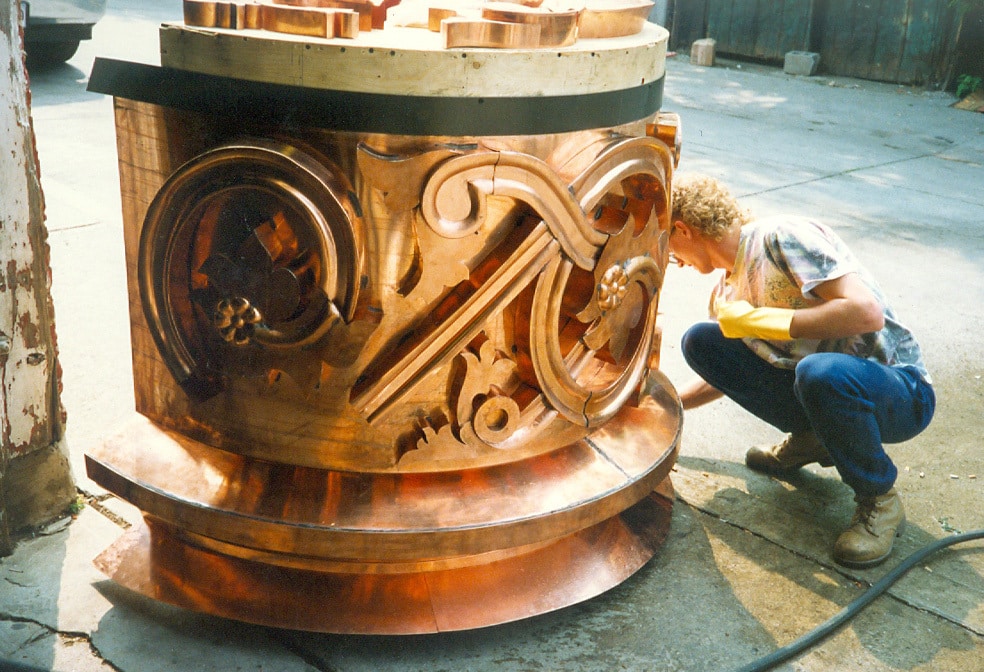 Turn To Heather & Little for Excellence in Canadian Metal Roofing
Whether you are restoring a building or simply seeking the best possible metal roof for your operation, Heather & Little has a long history of stunning metal work and fully satisfied clients. We are available for projects of all sizes and complexity, and our internal metal fabrication capabilities are unmatched.
Please click here to contact us for more information on our roofing services, or to consult our shop on your sheet metal restoration project.